Tracey Morris - 1980-81
Edit
Tracey was a young girl sent to Wentworth Detention Centre on remand for smuggling heroin into the country. She was set up by her boyfriend Joe, but Tracey DID think she was smuggling gold. While in prison, she was threatened by the inmates, telling her what Bea Smith would do when she was let of out solitary, however Judy Bryant stood up for her realising she needed a friend. This led to rumours of Judy attempting to start a relationship with Tracy, something which was only a rumour.
Kathleen Leech got herself put inside Wentworth to protect Tracey, however Kathleen eventually got given orders to kill her. Kathleen didn't want to do this, so Bea trapped Kath's hands in the steam press, burning them and giving her an excuse not to do it.
Tracey was bailed out by her father Bob Morris, but when Tracey found out she would be called to testify against her boyfriend Joe, she was put back inside Wentworth for protection.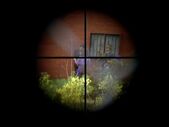 Whilst in the grounds, an attempt was made on her life by a sniper, however the bullet hit Meg Jackson instead. Meg made a full recovery. Another attempt on Tracey's life was attempted during the trial, where herself and a police woman were kidnapped by members of the McNally gang posing as police officers. Tracey was very upset that the policewoman was killed protecting her.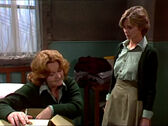 During this time, her father Bob, had taken a liking to Meg, and proposed marriage. This was a major factor in Tracey's eventual transfer to Barnhurst (158).
Some time later, Bea Smith is transferred to Barnhurst, and Tracey is forced by Marie Winter to drug her with some magic mushrooms. After this, the next time we see Tracey is a few years later.
Tracey Morris - 1984
Edit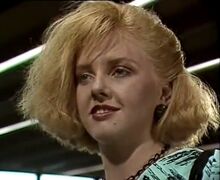 Tracey arrives at Meg's place, for a visit while she's in town. She invites herself to stay. By this time, they are no longer related as Meg and Bob's marriage was short lived. Tracey eventually introduces Meg to her boyfriend Mark who pulls a gun on her. The pair have just pulled a robbery on a TAB and need to hide-out at Meg's place. Tracey Cleans out Meg's savings account. She eventually buys a plane ticket and disappears, leaving her boyfriend Mark Sanders to take the heat.
Tracey is one of a group of Prisoner characters played by different actors. Another example of this is Marty Jackson.
Although played by different actors, both depictions of the character are quite different. Tracey Mk 1 was more innocent and naive, compared to Tracey Mk 2 who was more conniving.