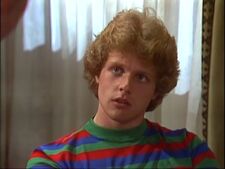 Tony Reid appeared on Prisoner from episodes 088-102 and 128-132.
Backgound
Edit
Tony is the teenage son of social worker Paul Reid. He moves out of his home and gets involved with the wrong crowd. He stays with his new found friends and buys drugs from drug pusher, Sharon Gilmour, during a police raid and gets arrested. Tony goes to court for the drug bust and is put on a good behaviour bond thanks to his father's influence. It is revoked however when he is later involved in a pub brawl over his pregnant friend, Sally Blakely. He is sentenced to three months detention in a prison farm.
Once released from prison, Tony is eager to see Sally but finds out quickly that she has moved on from him. Tony realizes he has to get a job and finds a great opportunity in Adelaide as a garage mechanic. He persuades his father to buy part of the garage, He admits to Meg Jackson that he would have wanted his father to marry her but with moving to Adelaide, it is not likely to happen. He says goodbye to Meg and joins his father to start a new life.
Tony Reid was played by John Higginson.