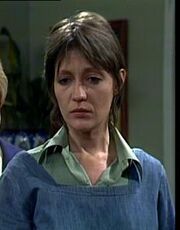 Sandra "Sandy" Hamilton was an inmate of Wentworth Detention Centre appearing from Episode 173 - 180.
Appearance at Wentworth
Edit
Sandra arrived at Wentworth claiming to be a first time prisoner. It quickly became apparent that there was more to her story, as she seemed to have a good knowledge and understanding of prison life and routine. She started asking questions about Judy, and even asked to be put in a cell with her, a request which was granted.
At first, Sandy is suspected to be an undercover police officer, but it turns out she was a journalist, getting herself put inside in an attempt to get closer to Judy as she was writing a story about her recent escape via the tunnel and the reasons behind the escape.
Not long after Sandy's arrival, three other prisoners arrive, Jenny Armstrong, Evelyn Randal, and Georgie Baxter. Sandy eventually agrees to write a story about Evelyn, as Evelyn hopes that it will help with her appeal, as she i charged with murder. Mrs Davidson finds out what Sandy is doing, and Sandy is moved to isolation, to prevent her talking to Evelyn or the other prisoners. By the time she is let out, many prisoners and officers are falling sick due to an illness suspected to be transmitted by the now released Jenny.
During this illness, the prison is put into lock-down, and it's apparent Sandy has trouble coping with the thought of getting sick, going so far as to attempt escape when Jim Fletcher is using Sandy, and other prisoners to unload food from a delivery truck. Jim has to point a rifle at her and threaten to shoot her if she doesn't come back inside the quarantined area. Despite her fears, Sandra never becomes sick.
After the illness is cured, Sandra is framed in a plot to frighten Evelyn by setting up a fire booby trap in her cell. Sandra is eventually proven innocent, by Bea, as Evelyn has made a deal with Sandra - Sandra is proven innocent of the booby trap, and in return, will write an expose on the conditions inside the prison when she is released.
After Wentworth
Edit
Sandra does indeed get released, but fails to keep up her end of the deal - she writes a story, but it's about her time inside, rather than the conditions inside the prison, more or less betraying the other prisoners.
Sandra Hamilton was played by Candy Raymond.
Ad blocker interference detected!
Wikia is a free-to-use site that makes money from advertising. We have a modified experience for viewers using ad blockers

Wikia is not accessible if you've made further modifications. Remove the custom ad blocker rule(s) and the page will load as expected.