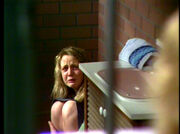 Sally Lee

Nickname

Sal

Crime

Drug supplying

First Appeared

Episode 1

Last Appeared

Episode 1

Status

Deceased, committed suicide

Played By

No information
Sally Lee was the first ever prisoner seen in the series, being chased through the corridors by officers Meg Jackson and Vera Bennett, after freaking out on drugs, supplied by corrupt officer Ann Yates. Later in the episode Sally is found to have hanged herself.
Final Hours In Prison
Edit
Sally Lee is seen in the first ever scene on Prisoner (1) when she is freaking out on drugs supplied by Anne Yates and is getting chased by Meg Jackson and Vera Bennett she is later caught when Franky Doyle pushes her over and denying it by quoting "She bumped into me" which was Franky's first line in the show, when she is caught Sally says if she is kept in her cell alone she will kill herself then Vera replies " I warned you Sally i warned you", She later asks Doreen Anderson to bring Vera to her but Vera doesn't show up, later when Vera is bringing Karen Travers to her cell, Sally begs Vera to give the pills back.
Death in both Prisoner and Wentworth
Edit
When Karen Travers wants to go to another cell after Franky Doyle flirted with her, Meg moves Karen to Sally's cell to share but she is found dead after hanging her self.
In Wentworth (Season 1 Episode 7), it was mentioned by Liz Birdsworth that Sally Lee was gang-raped by Jacs Holt and took her own life through an overdose from alcohol.
Sally Lee was guest starred by The Young Doctors actress Lisa Aldenhoven
After her death the first Halfway House in the show is named after her.
Sally Lee has the shortest appearance in the show