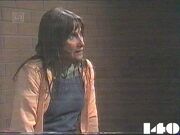 Linda Mary Jones is an inmate of Wentworth Detention Centre appearing from Episodes 140 - 150.
Linda Jones

Full Name:

Linda Mary Jones

Crime:

shoplifting

First Appeared:

Ep 140

Last Appeared:

Ep 150

Status:

Alive

Played by:

Elaine Cusick
Linda Jones
Edit
It's unspecified how long Linda has been inside Wentworth for, as she is already a prisoner on her first appearance. She worked as a runner for Margo Gaffney's betting racket.
Linda was visited by her son Danny from time to time. Danny was living with his Aunt, Linda's sister, and made no secret of the fact he was unhappy living with her, as she was overbearing and took whatever money Danny tried to hide or put aside for his mum's release. Danny runs away, but winds up breaking into the prison in an attempt to see his mum. Realising that he will attempt to run away again, Linda accepts Jim Fletcher's offer of letting Danny stay with him until her parole.
At the time Linda's parole was due, she walked in on Kay White trying to strangle Lizzie Birdsworth to death. Grabbing a nearby jug, she smashes it on Kay's head. Knowing she is due for parole, Lizzie makes Linda hide behind a door and take the blame for the situation. Linda is racked with guilt over this, but realises what Lizzie has done for her.
Linda is released to live with her son, but is almost found out when Jim visits Linda to question her further over the incident.
Linda Jones was played by Elaine Cusick.
Ad blocker interference detected!
Wikia is a free-to-use site that makes money from advertising. We have a modified experience for viewers using ad blockers

Wikia is not accessible if you've made further modifications. Remove the custom ad blocker rule(s) and the page will load as expected.