Jessica Warner, played by Georgia Chara, was a prisoner in Wentworth Detention Center. She was 19 years old when she entered the prison.
Jess was sentenced to 5 years in Wentworth for assault. She had a previous conviction for murdering a baby named Madison, whom she used to nanny. The charges were dropped, and another woman was found guilty. Jess assaulted the woman's husband when he came after her. It was later revealed that Jess was the real killer.
Whilst in prison, she seemed to take an interest in Matthew Fletcher. Jess helped Bea get Fletch's security card by seducing and having sex with him in the prison showers.
She also took an intense interest in
Doreen
's baby after finding out that she was pregnant, showing jealousy towards other people close to Doreen including Nash and
Liz
. She sabotaged Liz by planting alcohol under her pillow so Doreen would distrust her and make Jess alternate carer for the baby instead of Liz. She later made several attempts to have the baby taken away from Doreen, trying to convince the nurse that Doreen is not fit to be a mother, and slipping illicit drugs into her tea.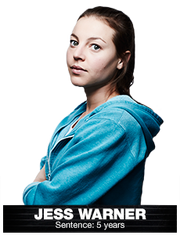 She was killed by Governor Joan Ferguson, who strangled her to death after finding Jess attempting to suffocate Doreen's baby, Joshua. The governor then burned her body, starting a fire that caused an evacuation of Wentworth Prison.
Appereances
Edit
Ad blocker interference detected!
Wikia is a free-to-use site that makes money from advertising. We have a modified experience for viewers using ad blockers

Wikia is not accessible if you've made further modifications. Remove the custom ad blocker rule(s) and the page will load as expected.