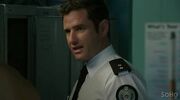 Jake Stewart is a Junior Correctional Officer at Wentworth Detention Center who wants a relationship with curre Vera Bennett. Jake has decided to let Joan take him under her wing so that he can work to become the best officer possible and to show how dedicated he is to his job.
Ad blocker interference detected!
Wikia is a free-to-use site that makes money from advertising. We have a modified experience for viewers using ad blockers

Wikia is not accessible if you've made further modifications. Remove the custom ad blocker rule(s) and the page will load as expected.