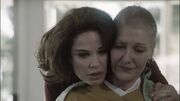 A character only seen through photos in seasons 4 and 5 in Wentworth, Helen was the victim of
Sonia Stevens
' murder. Helen, described as the best friend of Sonia's had a sister with cancer; leading Helen to ask Sonia to shave her hair in order to show her support for her sister. In season 4, Sonia reveals that Helen had depression.
Helen's murder was first mentioned during a TV news report when Helen's children were begging for information in order to catch her killer after Helen's remains are found.
The day before Sonia's trial, Helen's phone was found which contained a photo of both Helen with her shaven head and Sonia smiling at the camera which placed Liz in an awkward situation as through this photo, it was clear that she had perjured herself.