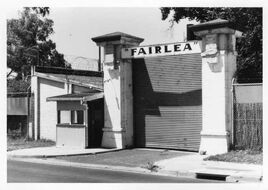 Fairlea prison, was an alternate prison for prisoners to be sent to.
Fairlea Prison
Edit
Chrissie Latham, after stabbing Bill Jackson with a pair of scissors, was transferred to Fairlea Prison, however she was eventually transferred again to Barnhurst. Prisoner Clara Goddard is sent there as well, apparently to serve out her sentence in peace.
Fairlea Prison was actually the first all-women prison in Victoria.The prison closed in 1996 due to privatisation of sections of the prison system. Fairlea was demolished and the site converted to parkland.
Behind The Scenes
Edit
Fairlea Prison was one of the locations visited by producers in order to talk to the prisoners and gain some knowledge to make the show realistic.
Ad blocker interference detected!
Wikia is a free-to-use site that makes money from advertising. We have a modified experience for viewers using ad blockers

Wikia is not accessible if you've made further modifications. Remove the custom ad blocker rule(s) and the page will load as expected.