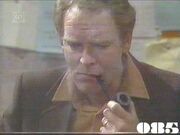 Erica indignantly demands an explanation of Jim's behaviour. Vera catches Lizzie trying to mark Ros's face by smacking her so she changes her mind and supports Jim. Erica questions Ros and threatens to charge Lizzie with falsely accusing an officer, so Ros has to admit that it was frame-up. Lizzie is to be locked in her cell and lose buy-up indefinitely, and Ros is sent to solitary for two days for stealing from the kitchen. Jim notices Chrissie in the dining room and sends her back to the maternity wing - her protests that Vera had moved her back to the laundry allow Bea and Lizzie to drop a few hints about Vera's favouritism. The news evidently gets back to Erica, who warns Vera she must drop this "liaison" with Chrissie and stop making insinuations against Jim. Pat is taken to court for David's preliminary hearing. The new social worker, Paul Reid, arrives and has to find his own way to Erica's office as Jim and Vera are too busy squabbling over where Chrissie should be placed. At court, Pat meets Carmel Saunders, her new solicitor who is also representing David. Carmel tells Pat that there is no mention in Herbie's written statement of Pat's meeting with David. Erica asks Lizzie if she wants to see Ralph Campbell: Lizzie issues a torrent of abuse against him and refuses to see him, but realises too late that Erica meant to give her permission to go out to see him. Jim fails in his initial attempt to get matey with Paul Reid. Paul talks to Chrissie, then goes to Erica and asks to have Chrissie moved back to the laundry. Erica reluctantly agrees. Chrissie tells the other women the new social worker is a push-over. Lizzie finds this isn't so when she is bulldozed by Paul into going ahead with her parole, which of course she doesn't really want. Greg sees Herbie outside court and asks a police sergeant who he is. When he is told Herbie is the chief witness against David, who had supposedly held him hostage, Greg points out that Herbie must be lying, as he visited Greg's surgery of his own free will while supposedly a "hostage". Dr Herbert offers to take over Greg's patients until the surgery is sold and possibly even take over some of his duties at the prison as he knew Erica's father. The police sergeant makes Herbie amend his statement, making it impossible for Pat's appeal to go ahead. Pat tells Greg he won't be needed as a witness for her, but he doesn't realise it's indirectly his fault. Erica has more bad news for Pat: David has hanged himself in his cell and died an hour ago.
Ad blocker interference detected!
Wikia is a free-to-use site that makes money from advertising. We have a modified experience for viewers using ad blockers

Wikia is not accessible if you've made further modifications. Remove the custom ad blocker rule(s) and the page will load as expected.