Cheryl Scott is DoreenDoreen Anderson 's next door neighbour. Doreen goes to live at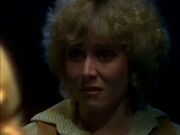 her mother's house after her release, and Cheryl comes to see why the lights are on in a previously empty house (154). She claims to want to be Doreen's friend even after Doreen tells her she's just come out of prison, and after Doreen has taken Elizabeth from hospital, she hides the child in Cheryl's house while she talks to the police (156).
Cheryl is played by Jenny Ludlam, who also played Janice Grant later in the series.