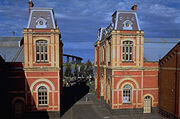 Blackmoore Prison was another prison often mentioned in the show, and even seen when Rita Connors was transferred there in Episode 665. Blackmoor was sometimes referred to as "The Black Hole"
Blackmoor was governed by Ernest Craven, who would regularly set up opportunities for prisoners to fight, and for officers to lay bets on the results.
Blackmoor was first mentioned by Ann Reynolds in Episode 439 where it was described as a new prison.
Lou Kelly mentioned there being no men at Blackmoor, but this policy may have changed before Rita's arrival, as by then it's a mixed prison. Rita's time there didn't last long however as she managed to burn it to the ground, forcing the inmates to be transferred to Wentworth Detention Centre
Behind The Scenes
Edit
Blackmoor was in reality, the pumping station at Scienceworks in Spotswood, Melbourne. Since it was shown on Prisoner, the building has undergone a big clean up and fix up.
Ad blocker interference detected!
Wikia is a free-to-use site that makes money from advertising. We have a modified experience for viewers using ad blockers

Wikia is not accessible if you've made further modifications. Remove the custom ad blocker rule(s) and the page will load as expected.