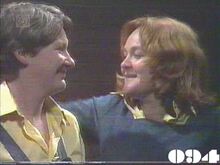 A dopy background prisoner who appears to be good mates with Top Dog: Bea Smith. She appears from episode 94-96. She gives Bea Smith her tray while she was in isolation. She seems nice and sems to be able to get along well with people.
She is played by Anne Phelan. Phelan would return to the series a few years later as top dog Myra Desmond.
Ad blocker interference detected!
Wikia is a free-to-use site that makes money from advertising. We have a modified experience for viewers using ad blockers

Wikia is not accessible if you've made further modifications. Remove the custom ad blocker rule(s) and the page will load as expected.