"To the Moon" is the ninth episode of Season 1 of Wentworth.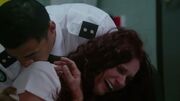 After Bea 
is informed of Debbie's death, she, along with Liz and Doreen, has to argue with Erica about whether she can go to her daughter's funeral or not. After being told she can go, Bea is left heartbroken when permission is revoked and tries to hang herself.
Ad blocker interference detected!
Wikia is a free-to-use site that makes money from advertising. We have a modified experience for viewers using ad blockers

Wikia is not accessible if you've made further modifications. Remove the custom ad blocker rule(s) and the page will load as expected.