"Something Dies" is the seventh episode of Season 1 of Wentworth.

Erica, Vera, Matt and Will decide it is time to release Franky from solitary. Doreen betrays Franky by siding with Jacs, but she was actually helping her. Bea, after learning that Jacs and her gang are planning on hanging Franky, confronts Jacs and gets beaten up. When Franky is released, she is threatened. However the tables turn, and she slams Jacs hand in an exercise machine. Will, who is using drugs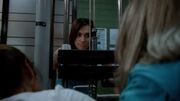 frequently, discovers that while he and Meg were trying for a baby, Meg did fall pregnant and three weeks before she died, had an abortion. Vera and Matt's romance intensifies.
Ad blocker interference detected!
Wikia is a free-to-use site that makes money from advertising. We have a modified experience for viewers using ad blockers

Wikia is not accessible if you've made further modifications. Remove the custom ad blocker rule(s) and the page will load as expected.